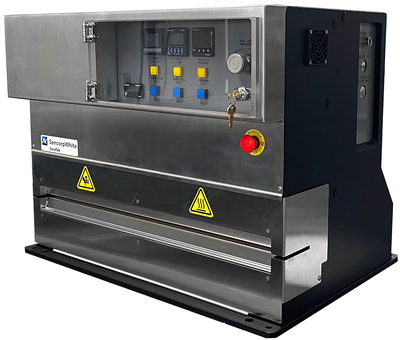 CeraTek Laboratory Heat Sealers
SencorpWhite's extensive line of laboratory heat sealers is ideal for a variety of applications including material testing, extruded film evaluation, QC testing, evaluation of printing inks and making package samples. A variety of industries including film manufacturers, converters, printing ink companies, chemical companies and consumer product manufacturers rely on CeraTek sealers.
CeraTek laboratory sealers conform to ASTM test method
F-2029: Standard Practices for Making Heatseals for Determination of Heatsealability of Flexible Webs as Measured by Seal Strength.
Our broad range of laboratory equipment includes:
1. Single-zone
2. Four-zone
3. Eight-zone
4. Top & bottom heated dies
5. Flat and serrated die patterns
For more information, please contact our worldwide distributor: Thwing-Albert Instrument Company
Fully Customizable
Our medical pouch and tray sealers are fully customizable. Each machine is tailored specifically to meet our clients unique needs.
Unparalleled Performance
For more than 40 years, SencorpWhite and CeraTek medical sealers have been recognized as the workhorses of the packaging industry.
Completely Modernized
Newly updated, our medical sealers provide unparalleled performance with sustainability in mind.
Superlative Engineering
Our unrivaled, quality engineering is the key to why our medical sealers are the best on the market.
Learn more about the amazing features
Our technologically advanced fully customizable machines are the best on the market. There's no pressure or obligation to buy; we understand this is an investment. Contact us to get specifications that satisfy your organization's specific needs.