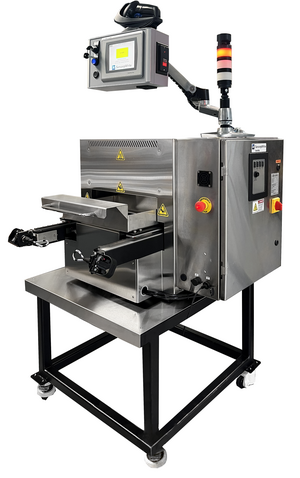 CeraTek Medical Tray Sealers
​Creating a hermetic seal requires optimizing the process parameters for your tray and lid combination. At CeraTek, we design our tray sealers and tooling to ensure that you can achieve repeatable hermetic seals. Available in 16" x 12" and 24" x 20" seal areas – longer trays may be able to be accommodated with a diagonal tool layout.
Our team of sealing experts can evaluate your specific tray design and lid stock material to guide you in creating a set of parameters for your package design. Our technical experts are available to support you and your machine for the life of your equipment*.
CeraTek has experience addressing customer SOP challenges by providing solutions including:
Sculptured seal dies to prevent tack sealing of the lid stock to the product
Lid orientation verification
Auto-shuttle feature ensures repeatable thermal exposure to the package and its contents
External barcode scanner for automated recipe selection
Internal barcode scanner for tool verification
UDI compliance can be quoted upon receipt of customer requirements
Fully Customizable
Our medical pouch and tray sealers are fully customizable. Each machine is tailored specifically to meet our clients unique needs.
Unparalleled Performance
For more than 40 years, SencorpWhite and CeraTek medical sealers have been recognized as the workhorses of the packaging industry.
Completely Modernized
Newly updated, our medical sealers provide unparalleled performance with sustainability in mind.
Superlative Engineering
Our unrivaled, quality engineering is the key to why our medical sealers are the best on the market.
CeraTek Medical Tray Sealers
CeraTek's tray sealers are designed with standard features for sterile packaging applications including (but not limited to):
ISO 11607 compliant
CE compliance on standard models
Validatable & calibratable
Free, fully executable sample IQ and OQ documents for most standard models
Requires minimal maintenance optimizing overall equipment effectiveness (OEE)
Provide industry leading support with 2 in-house service technicians and 19 field service engineers strategically located across the US
*CeraTek can provide recommendations for sealing parameters however we do not provide full validation or DOE services. SencorpWhite has access to an extensive network of validation service providers for contract support. The MD-1612 and MD-2420 come with a full 2-year warranty and free telephone and email support for the life of the machine.
Validatable, calibratable, ISO-11607 compliant, CE compliant, ANSI/OSHA compatible and ergonomically designed
Learn more about the amazing features
Our technologically advanced fully customizable machines are the best on the market. There's no pressure or obligation to buy; we understand this is an investment. Contact us to get specifications that satisfy your organization's specific needs.