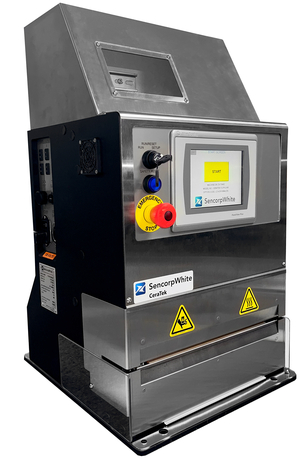 CeraTek Medical Pouch Sealers
​Standardization on the most accurate, repeatable, validatable, calibratable packaging systems is your best defense during an FDA audit. CeraTek is the preferred equipment supplier for most of the global major medical device manufacturers.
CeraTek precision constant heat pouch sealers are engineered for medical pouches and precision sealing applications. All models are available in 12" and 24" wide versions.
Our commitment is to:
Provide the right solution for each packaging application
Mitigate risks from the sealing process
Provide process expertise to guide the user in establishing sealing/process parameters*
Work with customers to address new product/packaging challenges
Optimize overall equipment effectiveness (OEE)
Provide industry leading support with 2 in-house service technicians and 19 field service engineers strategically located across the US
Fully Customizable
Our medical pouch and tray sealers are fully customizable. Each machine is tailored specifically to meet our clients unique needs.
Unparalleled Performance
For more than 40 years, SencorpWhite and CeraTek medical sealers have been recognized as the workhorses of the packaging industry.
Completely Modernized
Newly updated, our medical sealers provide unparalleled performance with sustainability in mind.
Superlative Engineering
Our unrivaled, quality engineering is the key to why our medical sealers are the best on the market.
CeraTek Medical Pouch Sealers
CeraTek's pouch sealers are designed with standard features that you rely on for sterile packaging applications including (but not limited to):
ISO 11607 compliant
CE compliance on standard models
Validatable & calibratable
Free, fully executable sample IQ and OQ documents with most standard models
SencorpWhite offers a wide range of pouch sealers including:
Constant heat sealers
Impulse heat sealers
Rotary band heat sealers
Vacuum/flush sealers
Chamber sealers
Sealer/cutter with integrated knife
Automated pouch sealers
*CeraTek can provide recommendations for sealing parameters however we do not provide full validation or DOE services. CeraTek has access to an extensive network of validation service providers for contract support. CeraTek equipment comes with a full 2-year warranty and free telephone and email support for the life of the machine.
Validatable, calibratable, ISO-11607 compliant, CE compliant, ANSI/OSHA compatible and ergonomically designed
Learn more about the amazing features
Our technologically advanced fully customizable machines are the best on the market. There's no pressure or obligation to buy; we understand this is an investment. Contact us to get specifications that satisfy your organization's specific needs.